So the top 50 bars in the world for 2015 has hit, or at least the top 50 according to this guy and his opinion. And the criteria for top bars, when taken collectively, tends to be how many spirits it carries and range of cocktails. I think decor might matter more than beer selection and how knowledgeable the staff is about beer. And probably where this guy's T&E makes sense for the cities. (There's a bunch on the list in New York and London, and I'm guessing one of them doesn't require a plane for him to visit.)
On this list, three are in San Francisco. Of the bars on this list, I've been to two. There were many bars my coworkers took me to in Tel Aviv, but I don't remember that hotel for Imperial Craft, so I'm sticking with two.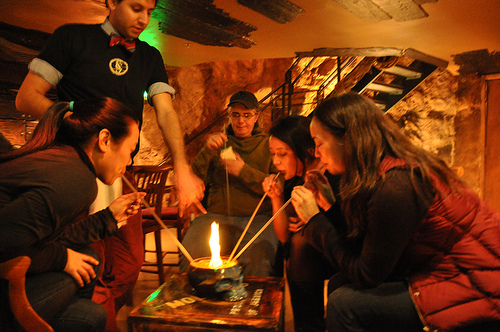 I'm not a fan of Smuggler's Cove. It seems like the people are generally in annoyingly annoying groups or put of a vibe that this is a divey as they get and wore their $100 jeans and $70 plaid shirt to prove it. The group drinks idea is made for this crowd, and I don't think their drinks are that great. Maybe my tastebuds aren't nuanced enough to appreciate rum and sweet mixers. But I do feel like a giant in the low ceiling area. I'd still rather get my pirate fix at The Pirate Store or one of the many awesome playgrounds in San Francisco. And I don't even remember if that have beer there, but I'm guessing a Red Stripe or probably Sierra.
Trick Dog was the meeting spot before dinner at Flour and Water. I did not get a beer there because their cocktail selection and physical menu in general was amazing. But this is a very nice bar. We were amazed by the mountainous kale salad, which didn't seem like bar bites size.
That leaves Tommy's, which for about 15 years I've said I wanted to go there for margaritas. The problem is, there's no reason to be out there in the Outer Richmond for the night. Or really those few blocks. I've eaten at a few places within a few blocks often, but Tommy's just seems like a good group place and I've yet to get friends that want to spend the evening in those parts. I know, tough crowd, but their mates and we have just as much fun in this Tommy's. Still, I know I'll get there someday. And I'll make sure I get a beer there before the margaritas. Let me know if you want to meet there.